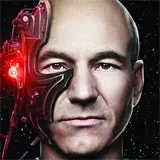 Paramount Home Entertainment has revealed plans to release the Blu-ray edition of Star Trek: The Next Generation Season 4 on July 30 just as Season 3 is gearing up to arrive on Blu-ray.
The expectations for this latest box set of TNG episodes in high definition on Blu-ray fall in line with the previous three seasons. You can look forward to remastered audio and video to make each episode look and sound better than it ever has, as well as an extensive bonus features.
The list of bonus features below unfortunately only includes one extra in high definition. The rest are in standard definition (save for the audio commentaries that accompany episodes).
Audio Commentary with Ronald D. Moore, Brannon Braga and Michael & Denis
In Conversation: The Art Department (HD)
Audio Commentary with Rob Bowman and Mike & Denise Okuda
RELATIVITY: The Family Saga of Star Trek The Next Generation
Bloopers: Gag Reel
Archival Mission Log: New Life and New Civilizations (SD)
Additional Scenes: Deleted Scenes
Archival Mission Log: Selected Crew Analysis Year Four (SD)
Archival Mission Log: Mission Overview Year Four (SD)
Archival Mission Log: Departmental Briefing Year Four: Production (SD)
Archival Mission Log: Chronicles from the Final Frontier (SD)
Archival Mission Log: Select Historical Data (SD)
Archival Mission Log: Inside the Star Trek Archives (SD)
Trailers

The Best of Both Worlds, Part II Promo (SD)
Legacy Promo (SD)
Data's Day Promo (SD)
In Theory Promo (SD)
Family Promo (SD)
Redemption, Part I Promo (SD)
The Wounded Promo (SD)
Reunion Promo (SD)
Brothers Promo (SD)
Devil's Due Promo (SD)
Future Imperfect Promo (SD)
Clues Promo (SD)
Final Mission Promo (SD)
First Contact Promo (SD)
Suddenly Human Promo (SD)
Remember Me Promo (SD)
The Loss Promo (SD)
The Drumhead Promo (SD)
Galaxy's Child Promo (SD)
Half a Life Promo (SD)
Night Terrors Promo (SD)
The Host Promo (SD)
Identity Crisis Promo (SD)
The Nth Degree Promo (SD)
The Mind's Eye Promo (SD)
Qpid Promo (SD)
The Amazon.com Star Trek: The Next Generation Season 4 Blu-ray pre-order link will be added as soon as it is available. You can view the cover art below.