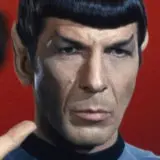 Paramount Home Entertainment will release the second remastered season of Star Trek: The Original Series on September 22.
The seven-disc set is constructed similarly as season one in that you will be able to toggle between the original version and revamped special effects with the press of a button. Retail pricing is set at $116.99.
When season one was released earlier this year on Blu-ray the big motion picture sets with the classic Trek crew dropped within a couple weeks. Knowing that and assuming the rumored Next Generation films are coming to Blu-ray this fall, look for those within a couple weeks of September 22, if not directly on that date.
Amazon.com pre-order information and high resolution cover art for Star Trek: Season Two on Blu-ray will be passed along once available.