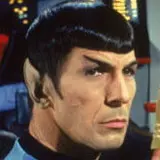 Paramount Home Entertainment has unveiled plans to wrap up the remasters of the original Star Trek television series on Blu-ray Disc with the release of the third and final season on December 15.
Like previously released season one and next week's season two, season three will be presented in 1080p video and 7.1 DTS-HD Master Audio. The episodes can be viewed with or without the new and improved special effects.
Bonus features also closely mimic the first two sets with Billy Blackburn's Treasure Chest wrapping up. The complete list is as follows.
Preview Trailers
"Where No Fan Has Gone Before" The Restored, Unaired Alternate Pilot Episode
David Gerrold Hosts "2009 Convention Coverage"
Life Beyond Trek: Walter Koenig
"The Anthropology of Star Trek" ComiCon Panel 209
Chief Engineer's Log
"The World of Rod Roddenberry" ComiCon 2009
Memoir From Mr. Sulu
Captain's Log: Bob Justman
Billy Blackburn's Treasure Chest: Home Movies and Special Memories Par 3
"To Boldly Go…" Season Three
Collectible Trek
Star Trek's Impact
BD-Live
Star Trek: The Original Series: Season Three on Blu-ray is expected to retail for around $130 with on-shelf pricing around $70. I'll pass along Amazon pre-order information as soon as the listing goes live.