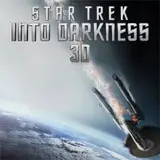 Paramount's Star Trek Into Darkness on Blu-ray 3D and Blu-ray combo continues to set the pre-orders pace at online retailer Amazon.com despite an official release date having not yet been announced.
Ever since the two high definition skus for the second J.J. Abrams Star Trek film went up for pre-order at Amazon roughly a month ago, they have been found consistently nestled in the top five of Amazon's Blu-ray bestsellers list. Not even high profile and bigger box office earners in the form of Fast & Furious 6 and Iron Man 3 have been able to knock Captain Kirk, Spock and the Enterprise crew from their perch.
For a least the past several days, the Blu-ray 3D edition of Star Trek Into Darkness has been in the first position. The Star Trek Into Darkness Blu-ray and DVD combo is right behind it in second place. It's not often that a film's pre-orders are so overwhelmingly strong that it can command the bestsellers list with multiple skus.
There are multiple factors at play for Star Trek's early Blu-ray success. In addition to big summer tentpoles with ample visual effects always performing strong in terms of sales, Amazon is pre-selling each Into Darkness sku by at least 50 percent off its list price. Thus far the combination of factors has proven a resounding success.
Click here to pre-order Star Trek Into Darkness on Blu-ray 3D combo for $24.99 at Amazon.com, 55% off the $54.99 list price.
Click here to pre-order Star Trek Into Darkness on Blu-ray combo for $19.99 at Amazon.com, 50% off the $39.99 list price.
The next pre-order expected to challenge Star Trek Into Darkness for the top position is Warner's Superman reboot Man of Steel. Warner has chosen not to follow the currently industry trend and open up pre-orders the same weekend as the cinematic debut. Man of Steel on Blu-ray could theoretically pop up for pre-order at any time.