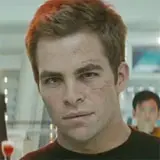 The sequel to J.J. Abrams' Star Trek appears to have a tentative release date according to a report at ComingSoon.net.
Chris Pine, Zachary Quinto and the rest of Enterprise's youthful cast look to have a stardate of June 29, 2012 for their second voyage. Paramount's motive behind locking in the date so far in advance is likely to ensure being the first film in the sought after pre-July 4th weekend.
Alex Kurtzman and Roberto Orci return to pen the sequel with the new franchise addition of fellow Bad Robot creative guru Damon Lindelof of Lost fame. The release date announcement might indicate a story has been cracked and the script is moving full steam ahead.