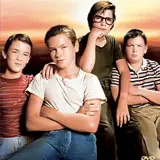 Wil Wheaton, River Phoenix, Corey Feldman and Jerry O'Connell showed us it's not a good idea to cross a train trestle in Stand by Me, the 1980s sleeper hit film based on the novella "The Body" by Stephen King.
Thanks to Amazon we now know that Stand by Me is scheduled to makes its Blu-ray debut on March 22 via Sony Pictures Home Entertainment. Given the relatively low $24.95 SRP I wouldn't expect much in the way of bonus features aside from ported stuff found on the previously released deluxe edition DVD.
More details about Stand by Me on Blu-ray will be shared as soon as Sony makes their official announcement.
Pre-order Stand by Me on Blu-ray for $18.99 at Amazon.com.