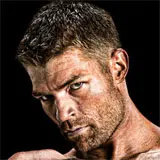 The Spartacus: Vengeance premiere date and time has been locked in for Friday, January 27 at 10 pm EST/PST by Starz. To go along with the announcement, Starz has released a new poster and trailer featuring new footage and interview snippets.
Spartacus: Vengeance sees Australian actor Liam McIntyre step into the role of Spartacus after the late Andy Whitfield stepped down due to medical reasons. It picks up a few weeks after where Spartacus: Blood and Sand left off, with the recently liberated gladiators now on the run.
Entertainment Weekly still isn't offering an embed option for videos, so you'll have to jump to their site to view the new Spartacus: Vengeance footage. We've also got the first gritty Spartacus: Vengeance trailer from Comic-Con this past summer.