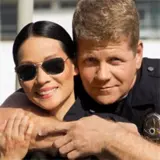 Fans of TNT's Southland can breathe a sigh of relief today as TNT has officially ordered up a fifth season of the cop drama starring Ben McKenzie and Regina King.
In total, TNT will produce an additional 10 episodes of Southland for its fifth season, the first of which will air in February 2013. The decision came in part not only from the show's core fans, but new, younger fans that began watching this past season. The only downside to the renewal news is TNT awarding Southland with 10 episodes versus 13 that the producers were aiming for.
Southland began its rocky existence on NBC when it debuted mid-season in 2009 with seven episodes in place of E.R. Critics loved the drama starring Michael Cudlitz and Ben McKenzie as L.A. cops, and the ratings were good enough for NBC to order a second season.
In a bold and unexpected move, NBC cancelled the sophomore season of Southland a mere two weeks before it was set to premiere. Fans were outraged, but NBC felt they could get better ratings with incumbent Dateline in the Friday 9pm time slot.
Less than a month later, TNT took a gamble on Southland and it has been a hit for the cable network ever since. With NBC's continually struggling lineup and Southland's not only success but ratings growth story and comparisons to The Wire, NBC clearly made the wrong decision back in October 2009.