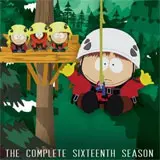 With humor that Ron Burgundy would be proud of, South Park: Season 16 is coming to Blu-ray and DVD on September 26. Consider it a primer to the arrival of Ubisoft's South Park: The Stick of Truth video game that is scheduled for release on Xbox 360, PS3 and the PC on November 19.
Season 16 of South Park on Blu-ray or DVD will include all 14 episodes of the modern day comedy classic. Bonus features follow the pattern of previous seasons and will include mini-Commentaries by the creators of South Park, Trey Parker and Matt Stone, on all episodes; as well as never-before-seen deleted scenes.
Click here to pre-order South Park: Season 16 on Blu-ray for a discounted price at Amazon.com.