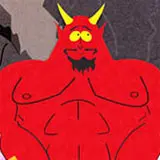 Can you believe it has been 10 years since South Park: Bigger, Longer & Uncut was released theatrically with the same unethical controversy Bruno battled earlier this month? I feel really old.
The chance to relive South Park: Bigger, Longer & Uncut on Blu-ray Disc should materialize on October 13 if the latest retailer intel pans out. This title has been rumored all year and is Paramount's final approval away from being in the can.
As we witnessed with K19: The Widowmaker and several other Paramount titles who went up for pre-order and then vanished, a street date is not final until the studio makes a formal announcement. Such an announcement has not been made for the South Park movie.
Assuming October 13 does hold true, we might see another season box set of South Park the same time. As it stands, season 12 is the only one available on Blu-ray thus far.