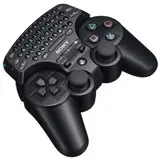 Sony Computer Entertainment unveiled a new Playstation 3 Wireless Keypad peripheral at the Leipzig Games Convention today.
The small Bluetooth device clips on top of either a SIXAXIS or DualShock 3 PS3 controller. Images of the Keypad both on and off the controller are below.
A Communication Button, Message Box Button and Touch Pad Button are all included just below the Sony logo for easy access.
Games like LittleBigPlanet, which will be available when the Keypad is released, as well as the Home Open Beta and future games DC Universe Online and The Agency from Sony Online should all benefit from the Keypad.
Though not confirmed to be supported yet, we expect the Keypad to aid in Blu-ray online features such as chat via BD-Live, already confirmed to appear on The Incredible Hulk.