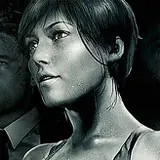 Sony has shared the final cover art for Quantic Dream's Heavy Rain, arguably one of the most anticipated Playstation 3 games of 2010.
The box reveals an M rating which Sony confirms is for "Blood, Intense Violence, Nudity, Sexual Content, Strong Language and Use of Drugs." In other words, Heavy Rain will be the same in all territories so North American PS3 owners do not have to worry about shelling out $60 for a watered down story.
Heavy Rain will arrive February 23 exclusively on PS3.
Click here to pre-order Heavy Rain at a discounted price from Amazon.com.