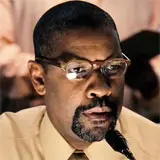 Sony Pictures Home Entertainment will release the summer thriller The Taking of Pelham 123 November 3 on Blu-ray Disc and DVD.
The Taking of Pelham 123 is a Tony Scott remake of the 1974 original that recasts the leads with John Travolta as a subway train hijacker and Denzel Washington as a transit dispatcher communicating with him. It grossed just under $65 million domestically and $92 million worldwide.
Disc details are expected to roll in over the next few days and will be shared as soon as they are received. You can count on the obvious 2.35:1 1080p transfer and 5.1 Dolby TrueHD audio.
Click here to pre-order The Taking of Pelham 123 on Blu-ray for $27.99 at Amazon.com.