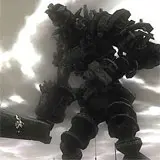 Sony is planning to port another Playstation exclusive game franchise to the big screen on the heels of God of War.
Justin Marks has been brought on board to pen a script based on the Playstation 2 game Shadow of the Colossus. The big budget film marks another geek project for Marks who has already penned He-Man and the Masters of the Universe, Voltron, 20,000 Leagues Under the Sea and Suicide Squad.
Colossus will be based on a solitary man, Wander, who must defeat 16 giant Colossus enemies to bring a girl back to life. The ginormous size of each Colossus will offer ample opportunity for extensive VFX.
Marks may chose to alter the story for the big screen as two hours doesn't leave much time to combat 16 distinct enemies. The barren and empty world Wander traverses to find his enemies will likely spawn a few new inhabitants.
Kevin Misher is in negotiations to produce. No other names have been attached to the project at this time.