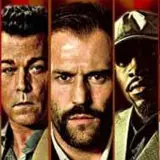 Sony Pictures Home Entertainment has announced the catalog films Blue Streak and National Security starring Martin Lawrence, Mirrormask starring Jason Barry, Southland Tales starring Dwayne "The Rock" Johnson and Seann William Scott, and Guy Ritchie's Revolver starring Jason Statham and Ray Liotta are all coming to Blu-ray Disc on November 18.
Each film will be presented in widescreen 1080p video and 5.1 Dolby TrueHD on a single Blu-ray disc.
Extra features for each film, where available and starting with Blue Streak, are as follows.
Featurette: Setting Up For The Score
HBO First Look: Inside and Undercover
"Hot Music Videos by Jay-Z, Tyrese featuring Heavy D and So Plush featuring Ja Rule"
Southland Tales:
Commentary with Writer/Director Richard Kelly
Southland Tales: The Prequel Saga Graphic Novel Gallery
USIDent TV: Surveilling the Southland featurette
This Is The Way The World Ends Animated Short
Revolver:
Commentary with Writer/Director Guy Ritchie and Editor James Herbert
Alternate Opening Sequence with Introduction by Guy Ritchie
Deleted and Extended Scenes
Alternate Ending
Outtakes
The Game: The Making of Revolver
Revolver: Making the Music
The Concept: An Interview with Guy Ritchie & Editor, James Herbert
Music Trailer
Sony has priced each of the five catalog films on Blu-ray with an SRP of $28.95. Check back regularly for high resolution cover art and pre-order information.