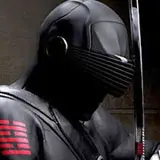 Stephen Sommers is returning to the G.I. Joe franchise and will direct G.I. Joe 2 per a report at TheWrap.
It had been thought Sommers would be replaced after reported tension between the director and the studio over creative differences. Any bad blood appears to have been flushed if this report pans out to be true,
Zombieland scribes Rhett Reese and Paul Wernick, whom are professed fans of the 1980s cartoon and toys, have been hard at work on the as-of-yet untitled screenplay and have turned in at least one draft to Paramount that the studio met with enthusiasm. Channing Tatum and Marlon Wayans as Duke and Rip Cord, respectively, are expected to return.
The likely schedule for G.I. Joe 2 is the completion of a shooting script by early next year, full production in summer 2011 and then an August 2012 release that will miss the big bows by Marvel's The Avengers and Warner's Batman 3.