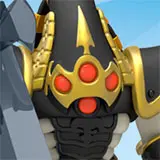 On Saturday, Activision officially revealed a new Skylanders Trap Team Trap Master character named Krypt King. We got to see the key art for the character and a screen shot, but at the time weren't privy to spying the actual toy figurine.
Krypt King is guaranteed to show up in figure form at the E3 2014 Activision booth starting Tuesday so the thought was we would have to wait until then to see him. Instead, Activision shared a nice clean look at Krypt King today and his stoic pose shows the mighty traptanium sword he wields is taller than he is.
There's an obvious similarity between Krypt King and Chop Chop, a Spyro's Adventure Skylander. The Krypt King character design was actually discarded during the development of Spyro's Adventure or Giants by Toys For Bob, and then brought back from the "dead" for Skylanders Trap Team.
I suspect Krypt King will be a wave 1 Skylanders Trap Team Trap Master figure but it's simply too early to tell at this point. Look for more Skylanders Trap Team updates from from E3 over the next few days.