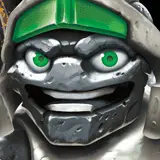 The final Skylanders Swap Force figure to complete the team of 16 is Doom Stone, and up until now it has been a mystery as to when he might appear on retail shelves. It still mostly is, unless you live near New York City and want to venture into Times Square to celebrate Skylanders Day.
For the second consecutive year, Activision and Toys R Us have teamed up for Skylanders Day, a celebration of the massive gaming franchise that occurs literally right before the next game in the franchise, in this case Skylanders 4, is formally unveiled. The event begins on Wednesday, April 23 at 4pm at the Times Square Toys R Us.
The first 500 people in line will be able to purchase Doom Stone, the 16th and final Swap Force member, before he becomes available anywhere else. It could be upward of a month before Doom Stone appears at other Toys R Us stores or other retail outlets.
In addition, all attendees at the event will be able to purchase any Skylanders Swap Force starter pack for $39.99, including the PS4 and Xbox One versions. All Skylanders Swap Force figures and accessories will be buy one, get one half-off as well.
There will also be giveaways going on, including free Doom Stone figures, as well as costumed characters and kiosks, to complete the Skylanders Day experience.
And don't forget that we will be checking in the evening of Wednesday, April 23 with all the details and hopefully some video from the new Skylanders 4 game. Watch the Skylanders 4 event teaser.