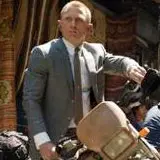 The latest James Bond adventure starring Daniel Craig, Skyfall, made its debut at the North American box office with record-setting numbers, while the Steven Spielberg historical drama Lincoln had a fantastic debut in limited release. Add to these two debuts strong holdover business from Wreck-It Ralph and Flight, and the movie business returned to strong form.
Fifty years after Dr. No introduced Ian Fleming's espionage icon and four years after 2008's Quantum of Solace debuted to a big $68 million in its first three days, Skyfall marked James Bond's 50th anniversary and return to movie screens by pouring an estimated $87.8 million into its already bulging worldwide haul of $321 million as of this past Thursday. The per-screen average was a terrific $25,050. Directed by Sam Mendes and co-starring Judi Dench, Ralph Fiennes, Javier Bardem and Naomie Harris, Skyfall finds Bond on a more personal mission this time around as he tries to protect his boss from a particularly vicious part of her past.
Given the extensive promotional campaign that accompanies a new Bond film as well as the fact that this year the film series turned fifty, it was expected that Skyfall would come close to, if not match, the big debut of Solace. With strong word-of-mouth and an adult audience that tends to take its time to check out films, Skyfall should display the type of longevity Casino Royale did six years ago. That should guarantee that the $200 million Sony/MGM production the honor of being the first film in the franchise's 50-year history (pre-inflation, of course) to crack the $200 million domestic milestone.
Not to be outdone by Bond, Disney took the post-election weekend as the perfect opportunity to release the latest Steven Spielberg film Lincoln in a limited, buzz-building debut. It appears that the strategy has paid off and done so handsomely as the movie earned a presidential $900,000 on 11 screens for a tremendous $81,818 per theater. Lincoln has earned a solid 93% approval rating on Rotten Tomatoes, making it one of Spielberg's best-reviewed film in quite some time.
After making a big debut last weekend in the number one spot, Disney's hit cartoon Wreck-It Ralph showed staying power in its second go-around as the movie eased a mere 32.6 percent to earn $33 million on 3,752 screens, bringing its ten-day total to a great $93.6 million. Ralph and his pals should continue to wreck the box office for at least $175 million in ticket sales by the end of its run.
In third place was Paramount's Denzel Washington drama Flight that held its ground despite only adding 163 screens to its theater count, which now stands at 2,047. Benefiting from good word-of-mouth from adult moviegoers, the Robert Zemeckis feature eased a modest 40 percent to earn an estimated $15.1 million this weekend. After ten days, the $31 million production has earned $47.7 million and could ascend to roughly $85-90 million prior to the awards season kicking into full swing.
Not to be pushed out of town by the new kids on the multiplex block, Warner's hit drama Argo held its ground again with a $6.75 million weekend on 2,763 screens. Off 34 percent, the Ben Affleck film has earned a great $85.7 million and should cross the $100 million by the end of November. Making its last appearance in the top five was Fox's fall hit Taken 2. In its sixth weekend, Liam and crew took another $4 million in ticket sales and now stands at $131.2 million overall.
The remainder of the top ten is as follows:
6. Here Comes the Boom (Sony) $2.5 million (-27%) $39 million to date
7. Cloud Atlas (Warner) $2.5 million (-53%) $22 million
8. Pitch Perfect (Universal) $2.5 million (-18%) $59 million
9. The Man With the Iron Fists (Universal) $2.4 million (-68%) $12.7 million
10. Hotel Transylvania (Sony) $2.3 million (-47%) $141 million
Kristen Stewart, Taylor Lautner and Robert Pattinson invade the box office next weekend with early predictions suggesting The Twilight Saga: Breaking Dawn Part 2 will top $150 million in its debut. The wide release of Lincoln and action in Skyfall offers the non-Twihards an alternate to the teen-targeted vampire series.
– Shawn Fitzgerald