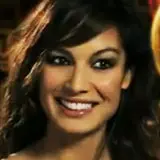 When James Bond 007 returns in Skyfall on November 9, he will bring along with a pair of very serious and sexy new Bond girls.
The following new Skyfall video blog introduces each of the new Bond girls and let's then describe their characters and experiences working on the film. First is Naomie Harris as Eve, a field agent who considers herself Bond's (Daniel Craig) equal in every way. Harris has been a fan of Bond films her whole life and has to continually pinch herself as a reminder that she's actually starring in one.
Harris is joined by Berenice Marlone as Severine, a mysterious character that Marlone describes as a "femme fatale." Footage in the featurette shows that Bond will interact with Severine in a casino, and she will also be involved in the signature shot of Bond firing a rifle against the backdrop of bright blue neon lights. Skyfall marks Marlone's english language film debut and she credits director Sam Mendes with making the transition an easy one.
Skyfall brings Bond back to theaters in North America on November 9.