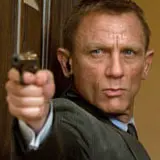 UpdateSkyfall on Blu-ray and DVD has been revealed to be March 12, 2013 per Amazon.com.
Original article (November 19, 2012): The Blu-ray cover art for Sam Mendes' James Bond flick Skyfall starring Daniel Craig has popped up on Amazon.com. There's no guarantee the artwork is finalized, in fact odds are favorable it isn't. It definitely comes from MGM and Fox despite the vanilla look.
In a perfect world we would have a Skyfall Blu-ray and DVD release date, as well as pre-order info, to share as well. I would like to think the Skyfall Blu-ray artwork popping up on Amazon is a sign that the pre-order will go live any day, if not any minute. It will appear here when it does.
As for a release date, early to mid March is the safest bet at this time. We won't have a confirmed release date for at least another month. Be on the lookout for Blu-ray release date rumor reports that could include Skyfall in the near future.