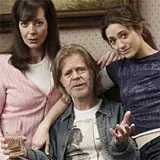 The first season of Showtime's original series Shameless is coming to Blu-ray and DVD on December 27, 2011 according to a new pre-order listing at Amazon.com.
Shameless is an adaptation of a British show that stars William H. Macy, Joan Cusack and Emmy Rossum. It debuted in January of this year and became another success for the pay channel. Season 2 is expected to premiere in January 2012.
I'll have more to share about the Shameless home video debut once Showtime officially announces the title. In the meantime, please check out the cover art below.
Click here to pre-order Shameless: Season 1 on Blu-ray for $34.99 at Amazon.com, 30% off the $49.99 list price.