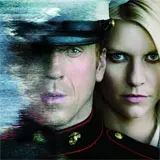 Showtime has announced premiere dates for Dexter: Season 7 and Homeland: Season 2, opting to keep the hugely successful one-two Sunday night punch intact this fall when both shows return on September 30.
Homeland was a massive hit for Showtime last fall, earning a Best Actress Golden Globe Award win for Claire Danes and endless critical praise. The series co-starring Damian Lewis explores terrorism on American soil and dares to blur the lines between good and evil, right and wrong, and illness and genius. Look for it to continue to air immediately after Dexter at 10/9 central.
Speaking of Dexter, Season 7 will take serial killer Dexter Morgan (Michael C. Hall) in a new direction given the huge reveal at the conclusion of Season 6. It is widely expected that Dexter will wrap its run after eight seasons, and Season 7 will officially start narrative threads that build into the series finale. It returns at 9/8 central.
If you haven't seen Dexter or Homeland, both Showtime series are more than worth your time. Look for Homeland: Season 1 and Dexter: Season 6 to appear on Blu-ray and DVD prior to the upcoming season premieres. Homeland: Season 1 is already available for pre-order at a discounted price from Amazon.com.