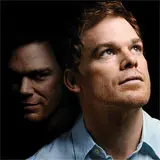 Showtime threw a curve ball when announcing their 2013 original programming lineup earlier today. The one-two fall punch of Dexter and Homeland is no more as both shows are now being leveraged to help launch the premiere of new series.
The big move sees the eighth season premiere of Dexter moved up three months to June 30 at 9pm, its usual time slot but certainly not its usual time of year. Dexter has always been a fall/winter series, and now it will be heating up the summer and serve as a lead in to the new drama Ray Donovan starring Liev Schreiber.
Whether Season 8 of Dexter is its last remains to be seen. The general consensus is that it will be as the creative minds behind the show have been talking about Seasons 7 and 8 working together to set up the series finale for more than a year now. However, Showtime has not definitively stated that Season 8 is the last and are keeping their options open, at least for the time being. Showtime entertainment president David Nevins did state today that he will announce the fate of Dexter prior to the Season 8 premiere.
Dexter was the lead in for Homeland a couple seasons ago, and now Homeland: Season 3 will serve as the lead in for the new series Masters of Sex starring Michael Sheen and Lizzy Caplan beginning September 29. As such, Homeland will now air at 9pm and not its old 10pm time slot.
Other premieres confirmed today include Inside Comedy on February 11, Nurse Jackie: Season 5 and The Borgias: Season 3 on April 14, and The Big C: hereafter four-episode run on April 29 at 10pm.
Below are some pictures from the new series Ray Donovan and Masters of Sex.