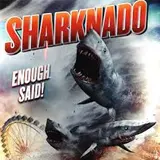 Syfy's monster and disaster feature mash-up Sharknado starring Tara Reid and Ian Ziering is seeing its midnight showings selling out in what could be the beginning of an expanded theatrical run.
Per The Hollywood Reporter, Fandango is listing sell outs for midnight screenings tonight in Boston, New York City and Seattle. Theaters in these cities including Regal Thornton Place Stadium 14 in Seattle, Boston's Regal Fenway Stadium and Regal Union Square Stadium 14 in New York that were selected for the Sharknado one night feature are adding additional showings to meet the swelling demands for Syfy's pop culture phenomenon.
What's remarkable about these sellouts is that Sharknado is a made-for-television film that has already aired three times. Each additional showing has built upon social and media buzz created by the last resulting in an increase in ratings up to 2.1 million viewers for its third airing. It's quickly becoming a cult hit that moviegoers are anxious to see up on the big screen.
Tonight's Sharknado sellouts should pave the path for additional Friday midnight screenings in other large markets should Syfy wish to go that route. With the Blu-ray and DVD release set for September 3, there could be a Sharknado spinning into a theater near you before this month is out.
The success of Sharknado on air and now theatrically has prompted Syfy to begin early development on a sequel. Given the huge social media explosion on Twitter that the premiere night generated, Syfy is looking to the Twitterverse to help name the next Sharknado sighting.
Source: THR