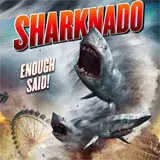 Anyone who visited Twitter last night might have noticed the terms Sharknado and Syfy were trending for a good portion of the evening. Syfy's latest original b-movie featuring an absurd mash-up, in this case sharks and tornadoes, became a social media darling as viewers fired up their tablets and mobile phones to tell the world about the flick starring Tara Reid, Ian Ziering and John Heard, all of who now look like geniuses for agreeing to take on flying sharks.
A total of 604,000 tweets for Sharknado were recorded from 8pm until 3am. At the peak there were 5,000 tweets flying per minute. A far cry of what big buzz theatrical films produce, but a huge number for one of Syfy's original efforts. At the very least it's clear fans of Syfy's original disaster and monster movies are active Twitter users.
Even Damon Lindelof was getting in on the Sharknado phenomenon last night, offering to pen the sequel. This was followed by countless sequel suggestions that mostly had the Sharknado going up against – or teaming up with – a animal-infested hurricane.
According to Variety, sequel discussions are already underway at Syfy's corporate offices. It's best they strike while the iron is still hot and it clearly is.
Speaking of which, the Sharknado Blu-ray and DVD is already available for pre-order at Amazon.com and will be released on September 3, 2013. I fully expect Sharknado to be NBC Universal's bestselling Syfy original movie on home video to date. With Ghost Shark coming up next month, there's no shortage of killer shark swimming in Syfy's waters… or flying through the air.
Click here to pre-order Sharknado on Blu-ray for only $15.99 at Amazon.com, 20% off the $19.93 list price.