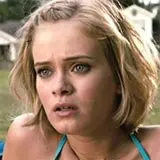 Last fall's latest deadly fish horror thriller Shark Night will look for new victims when it washes ashore on Blu-ray and DVD on January 3, 2012.
Shark Night starring Sara Paxton, Dustin Milligan, Chris Carmack, Katharine McPhee, Chris Zylka, Alyssa Diaz, Joel David Moore and Sinqua Walls was marketed as Shark Night 3D when it was released theatrically on September 2. The "3D" has been dropped for the home video debut, and thus far there's no sign of a Blu-ray 3D version in sight.
Fox has been slow to adopt Blu-ray 3D, releasing a handful of titles as either hardware or retail exclusives with little fanfare or publicity. The January 3 release date is perfect timing to take advantage of what will be thousands of new 3D HDTV owners come Christmas morning given the much lower prices this year, yet Fox is still giving the cold shoulder to the format.
There's a chance Shark Night could still appear on Blu-ray 3D as a Best Buy exclusive like Rio and a few other titles did. I'll share that information should it come to pass.
The Blu-ray edition of Shark Night will be presented in 1080p video and 5.1 DTS-HD Master Audio. Bonus features include:
Shark Attack! Kill Machine! – Use this feature to jump to your favorite kills quickly
Ellis' Island – A cast appreciation of what Shark Night director David Ellis brought to the film
Blu-ray Exclusive: Shark Night's Survival Guide – Everything you need to know about the sharks in the movie to avoid becoming human chum!
Blu-ray Exclusive: Fake Sharks Real Scares – This behind the scenes featurette focuses on the use of both animatronic and CGI sharks in Shark Night
Blu-ray Exclusive: Digital Copy
Click here to pre-order Shark Night on Blu-ray for a discounted price at Amazon.com.