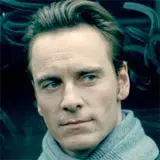 Michael Fassbender bears all in Shame, director Steve McQueen's fascinating look at a sex addict (Fassbender) and his troubled sister (Carrie Mulligan). Shame earned Fassbender a Golden Globe nomination for his performance, and you'll be able to see it for yourself at home when Shame comes to Blu-ray and DVD combo pack on April 17.
Fox is not offering separate Blu-ray and DVD versions of Shame to retailers. If you want to watch Shame in the comfort of your own home, and there is certainly no "shame" in that, the only way to buy it will be in the combo configuration.
Shame's Blu-ray tech specs include 2.35:1 1080p video and 5.1 DTS-HD Master Audio. Inclusive bonus features are as folliows:
Focus on Michael Fassbender
Director Steve McQueen
The Story of Shame
A Shared Vision
Fox Movie Channel Presents: In Character With Michael Fassbender
Theatrical Trailer
Click here to pre-order Shame on Blu-ray for $29.99 at Amazon.com, 25% off the $39.99 list price.