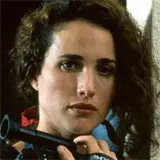 Sony Pictures Home Entertainment has pushed back the release date of Sex, Lies, and Videotape starring James Spader and Andie MacDowell from September 15 to November 17.
Sex, Lies, and Videotape on Blu-ray will be offered in 1080p video and 5.1 Dolby TrueHD audio.
Bonus features are relatively straightforward with the addition of MovieIQ for the Blu-ray edition.
Commentary with Writer/Director Steven Soderbergh and Neil LaBute
20 Year Reunion At The Sundance Film Festival
Deleted Scene with Steven Soderbergh Commentary
Steven Soderbergh on the Trailers
Steven Soderbergh on Sex, Lies and Videotape
Original and Miramax Trailer
Notes on Remastering and Restoration
Click here to pre-order Sex, Lies, and Videotape on Blu-ray for $18.99 at Amazon.com.