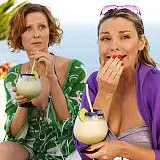 Sex and the City 2 continued its warm streak by hauling $13.1 million Friday for a 2-day box office total of $27.3 million, or about half a million more than the original film made in its debut Friday. The film is expected to top $60 million through its first five days.
Disney's Price of Persia: The Sands of Time didn't fare as well on its opening day. It placed third with $10.2 million and will be lucky to cross $40 million through Sunday.
Second place went to Shrek Forever After with $11.3 million, less than $2 million away from Sex and the City 2. If families turn out for matinee showings on Saturday and Sunday, Shrek stands a strong chance of finishing on top for the second weekend in a row.
Check back Sunday afternoon for the first weekend box office estimated tallies to see if Shrek pulled off the upset.