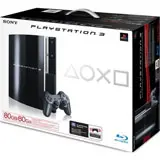 Anytime a retailer runs a $100 off of anything promotion we take notice. When that promotion includes PS3 and Blu-ray, well, our feeble brains need the full scoop.
With November just around the corner, online retailer Amazon.com must have been visited by Santa last night to offer up this deal. For a limited time, when you buy one of three Blu-ray Disc players, including the 80GB model PS3, along with four Warner Blu-ray titles, you will receive $100 off your order.
The players being offered in the deal are the aforementioned 80GB PS3 at $399.99, the Sylvania NB500SL at $199.99 and the Samsung BD-P1500 at $211.73.
Being forced to buy four movies to get the discount may seem lame, especially since there are only 22 titles to choose from. Some of Warner's best are included making the choice easy: Batman Begins, Speed Racer, Goodfellas and The Corpse Bride. You could even swap in 10,000 BC or Full Metal Jacket and come away floored by your first Blu-ray experience purchased at a sweet discounted price.
Click here to see all products being offered in the deal, as well as instructions to get the $100 discount.