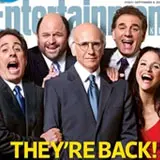 This week's issue of Entertainment Weekly has the Seinfeld cast plastered on its cover along with co-creator and Curb Your Enthusiasm mastermind Larry David. It is the first shot of Jerry Seinfeld, Jason Alexander, Julia Louis-Dreyfus and Michael Richards together since Seinfeld went off the air.
The issue drops several hints about what to expect when the Seinfeld gang makes a prolonged visit to the upcoming seventh season of HBO's Curb Your Enthusiasm. I'll run down the important bits which will have you chomping at the bit to see these episodes play out.
The Seinfeld storyline stars with episode three of Curb and will appear in five of the final eight episodes.
The storyline will center around recruiting the Seinfeld cast to tape a big reunion episode, parts of which will be shown within Curb. The episode will only exist within the world of Curb but from our perspective should be just like watching an episode of Seinfeld when snippets appear.
Louis-Dreyfus says the reunion is tied into Larry trying to get back his estranged wife Cheryl. Of the reunion she says, "It's the anti-reunion reunion, and I'd like to copyright that."
Alexander and Richards were both nervous about returning to the characters of George and Kramer, respectively, that they haven't played for years. For Alexander, George came naturally the instant he flipped the switch. Richards felt right at home when slipping on the Kramer shoes he kept and stood behind Jerry's apartment door.
Jerry's original apartment set and Monk's coffee shop were tracked down and reassembled for Curb. Aside from some minor tweaks like replacing Jerry's door because Seinfeld took it as a souvenir, the sets should just like they originally did.
Seinfeld says the reunion within Curb Your Enthusiasm is the one and only time the cast will come back together. "As far as I'm concerned, we did do it, and in a better way than I ever imagined," he said. "This exceeded my expectations, so there's no chance I would revisit it now."
The seventh season of Curb Your Enthusiasm cannot start soon enough.