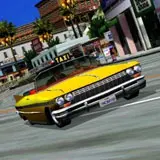 SEGA has given in to years of fan requests and will finally begin to make its extensive and cherished Dreamcast library available on Xbox 360 and PS3.
The first game, Sonic Adventure, will be available this fall via download from Xbox Live and the Playstation Network. It will be followed shortly thereafter by one of my personal Dreamcast favorites, the original Crazy Taxi.
No word yet on Jet Grind Radio's odds of making it out this year. I'd have to think that is the game gamers are clamoring for the most. Additional games and pricing will be announced at a later date.