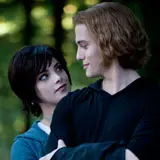 Some behind-the-scenes footage from The Twilight Saga: Eclipse has made its way online via Collider.com.
The raw footage comes from a B-Roll provided to media that offers a raw look at the cast and crew filming scenes, before green screens are erased and special effects added. You'll get to see David Slade directing his cast and all the stars including Kristen Stewart, Robert Pattinson, Taylor Lautner and Dakota Fanning filming scenes you've seen in clips but now get to see from a new fly-on-the-wall perspective.
The Twilight Saga: Eclipse hits theaters on June 30, sandwiched between Toy Story 3 and The Last Airbender.