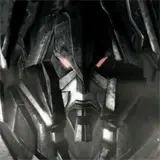 Activision has unleashed the reveal trailer for Transformers: War on Cybertron, a deliberate diversion from the Michael Bay films that inspired the past two Transformers video games.
War for Cybertron takes place before Transformers made contact with Earth, when their home world was thriving and at its societal peak. Autobots like Bumblebee and Optimus Prime, as well as Decepticons such as Megatron and Soundwave, appear in all-new Cybertronian modes resembling a cross between futuristic vehicles and their signature Earth alt modes. Hasbro would be foolish not to make toys of these new incarnations that are brimming with style.
The campaign can be played through its entirety as an either an Autobot or Decepticon with different objectives depending on which side is chosen. Online team-based coop will be included for the first time in a Transformers game, as well as a bunch of adversarial multiplayer modes.
Watch the "in-game engine mostly cut-scene with some actual gameplay sprinkled in" trailer below and admit this is how you imagined Cybertron appearing in the live-action Transformer films.
Transformers: War on Cybertron is expected in stores later this year on Xbox 360, PS3, Wii, PC and Nintendo DS.