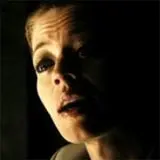 The dark and gritty Mortal Kombat Rebirth 8-minute trailer that hit the web yesterday is generating a lot of buzz. At first there was uncertainty about its purpose. Was a new film coming? A new game? Both?
Turns out the trailer is a demo reel created by director Kevin Tancharoen (the Fame remake) to pitch his idea for a reboot to Warner Bros. An R-rated, guts spilling reboot more like the game and less like the silly films that we've already forgotten about. Latino Review's breaks down most of who plays who in the trailer with some familiar and not-so-familiar names.
Jacks is played by Michael Jai White (Spawn, Undisputed II)
Sonya Blade is played by Jeri Ryan (Seven of Nine in Star Trek: Voyager)
Baraka is played by Lateef Crowder (Brazilian fighter in Undisputed III)
Scorpion is played by Ian Anthony Dale (Tekken)
Johnny Cage is played by martial artist Matt Mullins
So is this project moving forward? The jury's still out but odds are looking favorable. You can bet Warner Bros. is monitoring the Internet to see what kind of reaction the trailer gets. A smart man Tancharoen is if it was he who shared the trailer initially with Kotaku to utilize the power of the Internet to build hype.