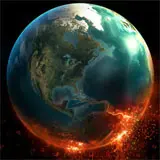 The second trailer for Knowing has arrived this weekend bringing with it Hollywood's latest stab at depicting a global natural disaster.
Knowing stars Nicholas Cage as a professor whose daughter is involved in examining the contents of a 50-year old time capsule. Within the capsule is a cryptic sequence of numbers left by a little girl that, when decoded by Cage, correctly predict every natural disaster of the past 50 years.
The problem for Cage and the rest of Earth is there are three disasters yet to come, the last of which could wipe out the human race. In the spirit of The Day After Tomorrow and countless disaster films below it, Cage's warning goes on deaf ears so he takes it upon himself to save the world.
Check out the second trailer below and look for Knowing in theaters on March 20.