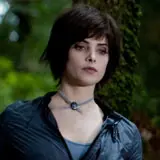 The final trailer for The Twilight Saga: Eclipse has begun to flood the Internet thanks to it debuting early at Oprah Winfrey's website.
The wolves come out to fight in this new trailer with a showdown between newborn vampires and an alliance between wolves and the Cullens taking place at, where else, a big grassy field surrounded by tall trees. There's also some city action too for anyone keeping score.
A high definition version of the final Twilight Eclipse trailer should be available within the next few days. The film starring Robert Pattinson, Taylor Lautner, Kristen Stewart, Dakota Fanning and Ashley Greene opens June 30 in theaters and IMAX.