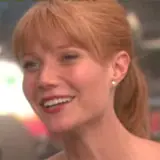 Last night Entertainment Tonight aired several minutes of footage from an exclusive visit to the set of Jon Favreau's Iron Man 2 earlier this summer.
Much of the visit is at the faux Monaco Grand Prix set where Tony Stark (Robert Downey Jr.)shows up to watch, ends up driving and then entangling with Whiplash (Mickey Rourke). Pepper Potts (Gwyneth Paltrow) and Rhodey (Don Cheadle) are also present on the mammoth set filled with green screen and mannequin spectators.
Robert Downey Jr. participates in his interview from the sea of fake spectators interspersed with snippets of action footage. Though not much is revealed about the film other than an obvious love triangle between Tony, Pepper and The Black Widow (Scarlett Scarlett Johansson), they are a couple great shots of Whiplash slicing and dicing a car.
Iron Man 2 is currently in post production with a May 7, 2010 release date.