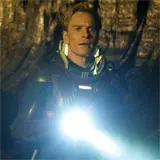 The crew of Prometheus take a leap of faith when they dart across the stars in search for the beginnings of mankind. Fox and Amazon.com want you to make a similar leap with your dollars.
Earlier today, exactly one week before Ridley Scott's Prometheus starring Charlize Theron, Noomi Rapace and Michael Fassbender opens theatrically in North America, Amazon began taking pre-orders for the Blu-ray and DVD, and Blu-ray 3D, Blu-ray and DVD combo packs. That's right; a full week before the theatrical release.
I can't recall a studio trying a stunt like this before. Last week, Sony began taking pre-orders for Men in Black 3 on Blu-ray 3D and Blu-ray with fantastic results based on where both versions sat on Amazon's Blu-ray bestsellers chart. The lure was any pre-order came with a free ticket to see Men in Black 3 in theaters.
Fox isn't quite as generous with their early Prometheus pre-order. Their promotion grants the first 5,000 people who pre-order the Blu-ray or Blu-ray 3D versions of Prometheus with a theatrical ticket. Is that a lot? A little? There's no way to tell as Amazon isn't including a counter, so pre-ordering and expecting a ticket is somewhat of a leap of faith.
I'd like to believe that as long as the Prometheus promotion page is live, Amazon is dishing out free tickets.
Click here to pre-order Prometheus on Blu-ray or Blu-ray 3D for a discounted price at Amazon.com and take advantage of the free ticket promotion, while it lasts.