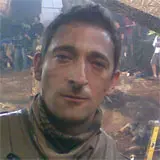 Someone over at AVP Galaxy.net (via ComingSoon) posted up a series of photos snapped from the top secret set of Nimrod Antal's Predators!
The pics show off several characters in costume including the assumed main star Adrien Brody, several Predators in partial if not full costume, and a Predators home world location with some skulls and other objects protruding from the surface. A burial ground, perhaps?
Predators stars Adrien Brody, Topher Grace, Laurence Fishburne, Alice Braga, Danny Trejo, Louiz Ozawa, Walton Goggins, Mahershalalhashbaz Ali and Oleg Taktarov. It makes fast tracks into theaters on July 7.
Click the image below to view the full gallery.