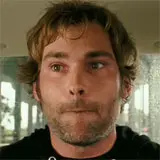 From A Couple of Dicks to the finalized name of appropriately titled Cop Out, Kevin Smith's latest has made its first footage debut and hardly resembles a Kevin Smith film at all.
Keeping in mind Smith did not write Cop Out, the buddy cop film chasing a rare stolen baseball card looks like a cross between comedy and drama with Tracy Morgan running his mouth while Bruce Willis chimes in with well-timed one liners. The trailer gives the best moments to Seann William Scott but I suspect, and hope, the money jokes weren't suitable for wide release. Otherwise based on this footage, Cop Out might end up a crap out.
Look for Cop Out in theaters on February 26.
View the Cop Out trailer in high definition at Apple.com.