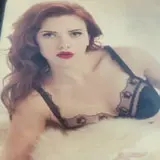 Starting on Friday and through the weekend, Paramount and Marvel Studios released four new clips promoting the arrival of Iron Man 2.
The clips feature Tony Stark (Robert Downey Jr.) donning his Mark V armor to protect Happy Hogan (John Favreau) and Pepper Potts (Gwyneth Paltrow) from Whiplash (Mickey Rourke), Stark and Pepper having a chat with Justin Hammer (Sam Rockwell) and reporter Christine Everhart (Leslie Bibb) at a party, Whiplash warning Stark while in prison, and Stark and Pepper talking about the new assistant, Natalie Rushman (Scarlett Johansson), while she spars with Hogan in the next room.
You don't need the clips to get excited about Iron Man 2's arrival on May 7. In less than two weeks we could have a new box office record for biggest opening weekend ever. With no 3D padding, to boot.
Suitcase Suit
Grab a Quote
Prison Cell
New Assistant