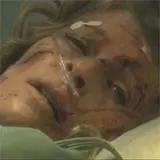 The SciFi Channel (soon to be ScyFy) will wring out its last drops of new Battlestar Galactica with the broadcast of The Plan this fall.
The first extended clip from The Plan titled "Every 33 Minutes" has popped up on Hulu in conjunction with the fourth season's episodes. I love seeing these familiar characters again for the first time since the series finale, even if it is likely the last time ever.
There is a chance The Plan will see a DVD and Blu-ray Disc release shortly after its television debut. I'll update that rumor as soon as more definitive information is available.
In the meantime, check out the Battlestar Galactica: The Plan clip from Hulu.com below and don't forget that Battlestar Galactica: The Complete Series arrives on Blu-ray Disc July 28.