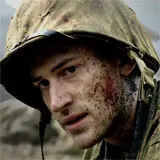 HBO has released a second trailer for The Pacific, a new World War II based miniseries following in the footsteps of Band of Brothers.
Tom Hanks and Steven Spielberg are presenting The Pacific as 10 episodes in the exact manner as they did Band of Brothers. This time, the story follows three American Marines whose lives intertwine while battling the Japanese in the Pacific.
The trailer ends by offering March, 2010 as the release month, the first official confirmation from HBO as to when The Pacific will deploy. It should wrap up by May which speculatively opens the possibility for a Blu-ray release in November.