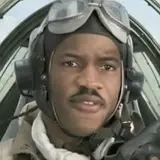 No one was expecting a second trailer for the George Lucas-produced World War II film Red Tails so soon after the first. It's here via MTV, and accompanied by the first theatrical one-sheet poster for the film.
Aside from an aerial attack on a train, there's nothing dramatically different between the first Red Tails trailer and this new one. You get new looks at the Tuskegee Airmen both in the air and on the ground, as well as some solid aerial battles that will bring back memories of X-Wing Fighters versus Tie Fighters.
Red Tails cast brings with it many years of experience and accolades. It features Terrence Howard (Iron Man), Cuba Gooding Jr., Breaking Bad's Bryan Cranston, Nate Parker and Ne-Yo.
Anthony Hemingway directed the film under the watchful eye of George Lucas and LucasFilm. This project has been on George's plate and in some form of development for approximately 20 years. It's hard to imagine we'll finally get to meet the Tuskegee Airmen on January 20, 2012.