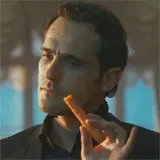 Both McClane kids make an appearance in the second trailer for A Good Day to Die Hard, the fourth Die Hard sequel that Fox is marketing to bring back memories of the original. Also below is a new mediocre one-sheet poster for the film via EW.
There are many nods to the original classic Die Hard starting most obviously with the classical music. It's always fun to see stuff blowing up to the rhythm of a familiar overture.
Then there is John McClane (Bruce Willis) getting dropped off at the airport by his daughter Lucy (Mary Elizabeth Winstead, reprising her role), and then hopping a plane all the way to Russia from New York. We all know how much John loves to fly. Knuckles with your toes usually does the trick. Hopefully he breaks out that sage advice for his long flight.
John then gets to crack a smile at a lovely lady undressing out of a biker suit. Remember the "Girls" line from the original? Of course you do! John is a ladies man and always will be, regardless of his age.
Son John Jr. (Jai Courtney) gets to join dad on this adventure, even jumping out of a window with him. It's not quite like jumping off the roof of the Nakatomi building while it explodes, but you can't help recall that plunge into the dark as this family bonds over a similar ill-advised leap of desperation.
John McClane isn't John McClane without some great quips so the trailer ends with one. He asks his son if he needs a hug and gets the reply, "We're not a hugging family." John responds to that simply with "Damn straight."
A Good Day to Die Hard also stars Yulia Snigir, Cole Hauser, Sebastian Koch, Megalyn Echikunwoke, Anne Vyalitsyna and Amaury Nolasco. It explodes into theaters on February 14, 2013. Here's the first A Good Day to Die Hard trailer in case you missed it.