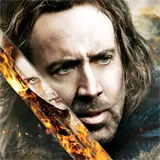 Fox Home Entertainment has announced the Blu-ray and DVD release of Season of the Witch starring Nicolas Cage and Ron Perlman for June 28.
Season of the Witch opened in theaters on January 7 and struggled out the gate with a $10.6 million opening weekend. From there it limped to $24.8 million at the North American box office, but managed to soar past its estimated $40 million budget thanks to over $59 million in international ticket sales.
The reason Season of the Witch took nearly half a year to arrive on home video is Relativity's distribution rights are in the process of transitioning from Universal to Fox. Season of the Witch marks the first Relativity film that Fox will distribute under their new deal.
Season of the Witch on Blu-ray will be presented in 1.78:1 1080p video and 5.1 DTS-HD Master Audio. Bonus features will include a "shocking" alternate ending, deleted scenes, behind-the-scenes featurettes, Blu-ray exclusives commentaries and more to be revealed at a later date.
Pre-order Season of the Witch on Blu-ray for $27.99 at Amazon.com.