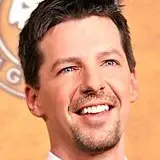 Sean Hayes has joined the Farrelly brothers' Three Stooges movie project as Larry Fine.
Hayes will team up with Will Sasso who has already boarded the Fox project as Curly. Casting is still underway for the third Stooge, Moe Howard. An announcement from Fox on who lands the role is expected in the coming weeks.
'Will and Grace' fans will remember Hayes as Jack McFarland on the comedy show. His character filled the physical comedy requirement on 'Will and Grace' which is the same type of performance that will be expected of Hayes in his interpretation of Larry.
Peter and Bobby Farrelly have written The Three Stooges movie as three, 27-minute segments, and will direct the film for Fox. Production will commence this year on the comedy with a 2012 release.
Source: Variety