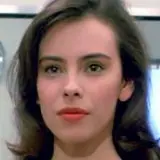 Scream Factory, the horror division of Shout! Factory, has lined up cult classics Lifeforce and The Vampire Lovers to make their Blu-ray debut on April 30, 2013.
Lifeforce is directed by Tobe Hooper (The Texas Chainsaw Massacre, Poltergeist) and was originally released in 1985 and features special effects from Star Wars visual effects pioneer John Dykstra. It's a Sci-Fi horror thriller where an alien spacecraft is discovered near Haley's Comet and before long, the aliens and their beautiful leader make their way to earth to assimilate mankind.
The Blu-ray edition of Lifeforce is a "Collector's Edition" package that includes the rare original theatrical cut (exclusive to Blu-ray), the more common international cut, and the DVD version. The film will be presented in 2.35:1 1080p video and 5.1 DTS-HD Master Audio. Bonus features includes:
New Audio Commentary with Director Tobe Hooper
New Retrospective with Cast & Crew including Star Steve Railsback, Director Tobe Hooper and others!
Original vintage "Making-Of Lifeforce" Featurette
Original Theatrical Trailer
TV Spot
Still Gallery
And more to be announced!
The Vampire Lovers stars Ingrid Pitt, George Cole and Peter Cushing, and was originally released in 1970. It's the story of a powerful female vampire with lesbian tendencies who leads a group of hunters through the countryside on a bloody killing spree. It's coming to Blu-ray in 1.78:1 1080p video and DTS-HD Master Audio with these bonus features:
Feature Length Commentary with Roy Ward Baker (Director), Tudor Gates (Writer) and Ingrid Pitt (Carmilla) moderated by Jonathan Sothcott.
Excerpts from the novella Carmilla, that inspired the film, read by Ingrid Pitt
Original Theatrical Trailer
New Interview with Madeline Smith (Emma)
New Interviews with Hammer Films Scholars
Original Radio Spot
Click here to pre-order Lifeforce on Blu-ray for $29.93 at Scream Factory with the first 300 pre-orders receiving a limited edition 18″ x 24″ poster featuring newly commissioned artwork.
Click here to pre-order on Blu-ray for $19.97 at Scream Factory.